Craft supplies in Kendal
Fantastic arts and crafts 'Aladdin's Cave' in the heart of Ke
ndal. We are a proper, practical, hands on craft shop for your card making and scrapbooking, paper crafting, needle felting, Fat Cat cross stitch and kits for the kiddies. We don't sell expensive designer 'gadgets' that you will use once and shove in the back of the cupboard - just good reliable crafting tools and supplies for you to craft with. From the basic tapes, glue, card - through the fancy 12" pape
rs, embellishments - to the great selection of kits of all kinds - including our very own range of knitting patterns. There is a growing range of jewellery bits and bobs - with the yummiest agate and semi-precious beads. Plus I have a new supplier of fabrics - so we have a small range of 100% cotton fat-quarters - sewing threads - 30% wool felt squares - 6" tulle netting - work boxes - sewing kits. oh - and don't forget the glass / fabric / acrylic paints! So much in such a tiny space!
Yeaaaaah for the New Year - I am open and sorting out for the new adventures to come.
I have to hold my hands up - my health is really poor at the moment and although I really am trying to keep to my opening hours - I am struggling. If it is really quiet ( and blooming freezing!) - I do tend to sneek off a bit early. If you know you will be in town late and want me to make sure I hang on for you - just tell me. All I can do is apologise and say ' let's keep talking' - I want to keep my shop going as long as I am able and I need your help to do it - and anyway - summer is a-coming!!!!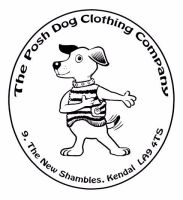 We are proud to announce that we are now the home of
The Posh Dog Clo
thing Company
- an exclusive range of handmade dog wear. Unique hand knitted jumpers - fleece coats with contrast trimming - long lasting toys (with noises and with out) - super strong and soft braided leads - seriously pretty collars and accessories. All the range is hand-made in the Lake District - each piece is unique and is known for the bright, happy colours. Stand out from the crowd with a Posh Dog jumper and lead. Available on-line
HERE
If you are not in the area or cannot visit our shop you can shop online at
Monday - Closed
Tuesday - 10am - 4pm(ish)
Wednesday - 10am - 4pm(ish)
Thursday - 10am -
3pm
(ish)
Friday - 10am - 4pm(ish)
Saturday - 10am - 4pm(ish)
Sunday - Closed
We stock Snazaroo Face Paints - in the shop and online
HERE
We have a huge (and growing) range of jewellery making supplies, findings and tools both in the shop and online - if you don't see what you need - please just ask.
In stock we have over 40 different colours of Robin double Knitting yarn - including the 6 new colours for this year. The range of my own knitting patterns written especially for beginners is always growing, and now includes a few baby knitting ones. My speciality is working with beginners to start them off on their knitting journey - never worry about popping in and asking for help - I am always happy to help.
We buy wonderful treasures from all over the world just for you to get creative.